Traveling by train is certainly one of the most efficient, inexpensive and relaxing way to get from one Italian city center to another. It suffices to look at Italy's geographical shape to understand why. Due to its boot shape, getting from North to South can be quite a long trip, so you may want to avoid driving all the way while figuring out road directions and paying highway tolls. Add to that the rampant parking problem in most of Italy's big cities and you'll understand why locals often choose the train over the car. However, if you are touring within a region, such as Umbria, Tuscany, Puglia or Basilicata, just to name a few, a rental car may come out handy, to really get the most out of the beautiful countryside and little villages.

.
.
.
YourGuidetoItaly.com 2005-2013 © All Rights Reserved.

Photos of the YourGuidetoItaly.com banner (from left to right): red boat landscape © mmac72/Istockphoto; Wine © RCphotografia/Istockphoto; Vitruvian man © Jodie Coston; Italian food © photovideostock/Istockphoto; Fiat 500 by
tizianoj
,
A Guide to train travel in Italy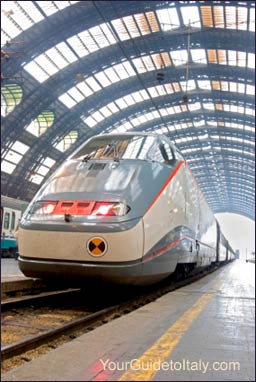 The Italian railroad system, is run the by agency Ferrovia dello Stato Italiane (FS). The company operates both local (regional) and long-distance trains, covering 16,723 km (10,391 mi).

High speed trains in Italy run both on special high speed lines and on traditional lines, depending on the type of train. The high-speed network consists of two lines. The first line connects Milan to Salerno via Bologna, Florence, Rome and Naples, the second runs from Turin to Venice via Milan, and is in parts still under construction.






Main categories of Trains


Long distance


-

Italo

, a high-speed train operated by NTV (Nuovo Trasporto Viaggiatori, a private company) which makes a few stops in most important cities. There are

three lines

: the

Turin-Salerno

, which stops in Milan, Reggio Emilia (Mediopadana), Bologna, Florence, Rome and Naples; the

Turin-Ancona

, which stops in Milan, Reggio Emilia (Mediopadana), Bologna, Rimini and Pesaro; and the

Venice-Naples

, which stops in Padova, Bologna, Florence and Rome. The Italo train takes you from

Milan to Rome

in

less than 3 hours

, from

Rome to Naples

in

less than an hour

and from

Venice to Florence

in

2 hours

.



-

Frecciarossa

, high-speed trains which run on special high speed lines operated by Trenitalia. Makes a few stops in major cities: Milan, Turin, Bologna, Florence, Naples, Rome. Their maximum speed is 360 km/h (220 mph). As a refernce, the Frecciarossa will take you from Milan to Rome in less than 3 hours, which, as compared to waiting times and delays when traveling by airplane, makes train travel highly competitive.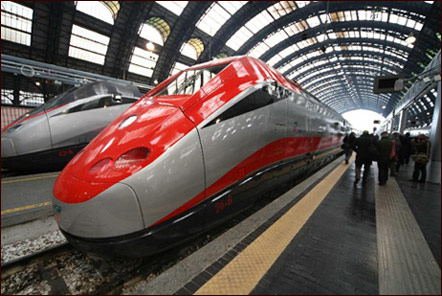 Frecciarossa (right) and Frecciargento (left) in Milan station

-

Frecciargento,

high-speed trains, but slower than Frecciarossa, reaching speeds up to 250km/h (160 mph). They connect Rome to Venice, Verona, Bari/Lecce, Lamezia Terme / Reggio Calabria on both high speed lines and traditional lines. The Rome to Venice trip, for example, will take you just 3h 20m.

-

Frecciabianca

, high-speed trains, but slower than the Frecciargento (maximum speed 200 km/h (120 mph)), which run on traditional lines. Stops in big cities.



Both Long and medium distance


-

Intercity

operates on main lines by Trenitalia, connecting 200 stations of major and minor cities in Italy.



International


-

Eurocity

operates on international main lines within the European Union by Trenitalia. Stops in big cities.



Regional


-

InterRegionale

operates on regional lines connecting neighboring regions.

-

RegionaleVeloce

operates on regional lines within a region or between neighboring regions. Stops in the main stations on the local line.

-

Regional

operates on regional lines and stops in every station of the line on which it operates.



Booking your train trip


For train fares, timetables and destinations see the ItaliaRail.com website. You can also directly book your ticket on-line there.

For the Italo high speed train, see the Italotreno.it website (in English).



Railway passes vs. point-to-point tickets


Railway passes and point-to-point tickets both have their benefits and limitations. Railway passes are not necessarily cheaper, it really depends on how much you intend to travel and on the routes, so make sure to do the maths beforehand and compare with the discount prices you may obtain on city-to-city tickets.


Generally speaking one may say that point-to-point tickets are the way to go for short distance travel, such as travel between two cities within Italy. They are also good value if you intend to travel only to two or three places. Passes are preferable if you plan to travel extensively throughout Italy or Europe or if you plan to do many long-distance trips. They allow you hassle-free travel since you won't have to queue at the train station to get tickets.

Some Italy and Euro rail passes may offer additional benefits, such as discounted ferry crossings, for example for crossing the Adriatic Sea to Greece.

In some cases you may still have to make reservations or pay a supplement for high-speed trains, so you have to factor his in when making your choice between a railway pass vs. a ticket.



Eurail vs. InterRail Passes


Notice that not all passes are available to all travelers.


Only travelers living

outside the European Union

(plus a few countries, check the Italiarail website) are eligible for a

Eurail pass

. Included in this group are also European citizens who have lived outside the list of countries for more than 6 months.


Travelers who

currently reside in Europe

must purchase an

InterRail pass

.

Eurail passes exist for combining two countries, for example France and Italy or Span and Italy. If you intend to explore more than 3 to 5 bordering European countries, than the Eurail Global Pass is probably the best option. It offers access to 21 countries. Otherwise, the Eurail Select Pass, which is good for 3, 4 or 5 bordering countries, may be a good choice. If you intend to travel extensively but all within Italy than the Eurail Italy Pass is probably the best option. The equivalent for European residents is the InterRail Italy Pass and InterRail Global Pass.