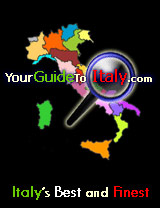 Main Tourist Sights in Italy
(Top Attractions in Italy)
in alphabetical order


Custom Search
.
.
YourGuidetoItaly.com 2005-2011 © All Rights Reserved.

Photos of the YourGuidetoItaly.com banner (from left to right): (on campus) Sean Locke, (red deckchair) Valentina Jori, (chianti botlle) Donald Gruener, (Vitruvian man) Jodie Coston, (coliseum), Roberto A Sanchez, (Fiat 500) Luca di Filippo.


YourGuide
To
Italy
.com

your

independent guide

to

Italy

and the

Italian culture



Shop for Italian Gourmet food at Amazon.com:

Parco Nazionale d'Abruzzo

See Abruzzo


Ascoli Piceno:
known as "piccola Siena" (little Siena) for the harmoney and elegance of its medieval and Renaissance buildings.


Assisi:
situated in Umbria, the city of "San Francesco" is enclosed in a broad circle of medieval walls. It is rich in monuments which are exceptional both for their architecture and their figurattve art.


Amalfi:
Amalfi is the main town of the Costiera Amalfitana, and is today an important tourist destination together with other towns on the same coast, such as Positano, Ravello and others. Its tall white houses are built on slopes facing the see in a wonderful setting. Amalfi is included in the UNESCO World Heritage Sites.


Arezzo:
the tuscan town has many reminders of its Etruscan and Roman past and is the birthplace of several famous men, such as Petrach, Guido d'Arezzo and probably Maecenas, the legendary patron of art and letters.


Bellagio:
the town occupies a magnificent site on a promontory dividing Lake Lecco from the Southern arm of Lake Como.


Bergamo

Bologna

Costiera Amalfitana

Capri Island

Castelli Romani

Cinque Terre

Dolomiti

Ercolano:
an ancient Roman town that like Pompeii was overwhelmed during the AD 79 eruption of Vesuvius.


Ferrara:
a tranquil town with red-brick houses, austere palaces and charming squares. The melancholic atmosphere of the town was a source of inspiration for painters such as De Chirico and Carrà.


Firenze

Abbazia di Fossanova

Promontorio del Gargano

Genova

Gubbio:
an ancient Umbrian town situated at the foot of Mount Ingino, rich in monuments testifying to its glorious past. Architecturally, Gubbio is the absolute masterpiece of medieval civilization.


Ischia Island

Isole Borromee

Lago di Braies

Regione dei Laghi:
the lake district extends from Piedmont to Veneto and From Switzerland to Trentino in the north.


Laggo Maggiore


Lago d'Orta

Lago di Lugano

Lago di Como

Lago di Garda


Lecce

Lucca:
charming town with a rich heritage of churches, palaces, squares and streets.


Mantova

Massa Marittima

Matera

Merano

Milano

Abbazia di Montecassino

Abbizzia di Monte Oiveto Maggiore

Monte grappa (Bassano del Grappa)

Montepulciano

Napoli

Golfo di Napoli

Orvieto

Ostia Antica

Padova

Paestum


Parma


Passo di Sella:
a pass in the Dolomites offering the most extensive panoramas.


Certosa di Pavia

Perugia:
capital of Umbria and city of art with an abundant artistic and cultural heritage.


Pienza

Pisa

Pistoia

Golfo di Policastro

Pompeii


Abbazia di Pomposa

Promontorio di Portofino (Portofino Peninsula)

Portofino

Prato


Ravello

Ravenna

La Riviera Ligure

Reggia di Caserta

Riviera del Brenta

Roma


San Gimignano

Sardegna

Sicily

Siena

Sorrento

Tivoli

Todi

Torino

Terra dei Trulli:
a region extending between Fassano, Ostuni, Martina Franca and Alberobello. It takes its name from the bizarre buildings, the trulli, which are to be found almost everywhere.


Urbino


Val Gardena:
one of the most famous valleys in the Dolomites.


Venezia

Verona


Vesuvio


Vicenza


Volterra