Agritourism (Agriturismo) in Italy
(farm vacation, but not only! )

Across rural Italy more than 2,000 places offer the very popular form of accommodation known as agriturismo. Agritourism or agriturismo is a style of self-catering accommodation in which hospitality is offered on farms, wine producing properties and mountain chalets, but also in villas and ancient castles.

.
.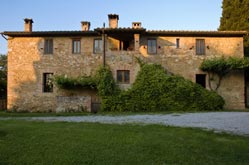 When practiced on a working farm, the stay may include the opportunity to assist with farming tasks during the visit. Usually, the agritourism offers fruit, vegetables, oil and honey from their own produce for sale. Some include restaurants which serve farm and local produce; others can arrange riding, fishing or other activities practiced on-site or in the area. Often a minimum stay is required, especially in peak season. Make sure you book in advance.

Agritourism often allows to support those agricultural entities, which would otherwise disappear when the farm products they produce are no longer economically competitive. As far as the ancient castles and villas are concerned, the principle is often comparable to the Paradors in Spain and the Pousadas in Portugal. The hosting activity is used to finance renovation works and keep to small local villages in which they are located together, by combating rural desertification. The expression is used to describe the abandoning of entire villages by more and more people moving to the cities in order to find work, with as a result that the local schools, train stations, post offices close down, resulting in even more people moving further and further to find what they need.

Rural desertification is the term used to describe these entire 'ghost' villages, often with charming little houses and churches, but where all life has disappeared. It is sometimes sufficient to keep one pool of activity working to attract new activities and restore the cohesion of entire villages. A way to combine holidays with a useful investment and offering a helping hand without rolling up one's sleeves;


Although not as developed as in the UK or France (chambre d'hôtes) and still relatively new, the network of Bed & Breakfast is now also slowly taking off in Italy.

Italy's
Trends, Travel Tips and Culinary Traditions
Region by Region

Agritourism in Umbria, Italy

Photo: Daniele Morra

Landscape in Tuscany
Photo: Robert Van Beets