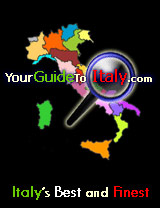 Contact
(Send us your feedback)


Custom Search


.
.
YourGuidetoItaly.com 2005-2009 © All Rights Reserved.

Photos of the YourGuidetoItaly.com banner (from left to right): (on campus) Sean Locke, (red deckchair) Valentina Jori, (chianti botlle) Donald Gruener, (Vitruvian man) Jodie Coston, (coliseum), Roberto A Sanchez, (Fiat 500) Luca di Filippo.

Living, Studying, and Working in Italy:
Everything You Need to Know to Live La Dolce Vita
by Monica Larner


YourGuide
To
Italy
.com

your

independent guide

to

Italy

and the

Italian culture



Shop for Italian Gourmet food at Amazon.com:

We love hearing from you, so please do not hesitate to send us your feedback, suggestions and photos.

Have you tried one of the hotels or restaurants we suggest. Please let us know what you liked (or didn't like) about them.

Did you make some photos that could illustrate one of our articles (or your own article). We will be happy to post them on our website.