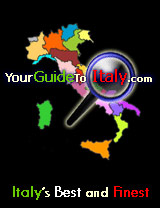 Regional Specialities of Italy

(Tuscany, Umbria, Marche and Roman cuisine)
Tuscany


Typical tuscan first courses are minestrones and soups,

ribollita

and

pappardella

, a type of lasagna. The Fiorentina bistecca (grilled steak fillet) is renowned all over Italy.


Umbria and Marche


Black truffles

(tartufo nero)

and

pork dishes

are specialities of Norcia.

The regional dish is the

porchetta

, a whole sucking pig roasted on the spit.

Specialities from the Marches include

vincigrassi

(pasta cooked in the oven with a meat and cram sauce),

stringozzi

(a type of hollow spaghetti),

brodetto

(a fish soup), and

stocco all'anconetana

(dried cod).


Lazio


Many Roman specialities are typical proletarian dishes (based on the so-called

quinto quarto

) or dishes of Jewish origin. More about Roman cuisine and Roman Jewish cuisine.


Custom Search


.
.
YourGuidetoItaly.com 2005-2009 © All Rights Reserved.

Photos of the YourGuidetoItaly.com banner (from left to right): (on campus) Sean Locke, (red deckchair) Valentina Jori, (chianti botlle) Donald Gruener, (Vitruvian man) Jodie Coston, (coliseum), Roberto A Sanchez, (Fiat 500) Luca di Filippo. Photo of 'Rialto bridge' by S. Greg Panosian.

Living, Studying, and Working in Italy:
Everything You Need to Know to Live La Dolce Vita
by Monica Larner


YourGuide
To
Italy
.com

your

independent guide

to

Italy

and the

Italian culture



Shop for Italian Gourmet food at Amazon.com: