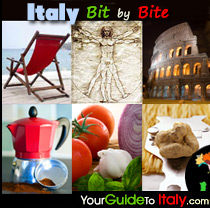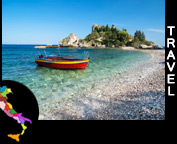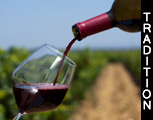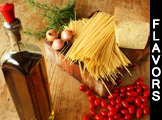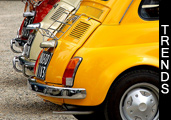 One of the best-kept-secrets of Italy is the little island of Ponza, lying beyond the Gulf of Gaeta. While it is relatively unknown among seasoned Italy travelers and even Italians, it is a favorite summer escape for both nature lovers, divers and the

bella gente

of Rome and Naples.

.
.
Ponza Island

and the Pontine Archipelago

(Palmarola, Zannone, Gavi, Ventotene, Santo Stefano)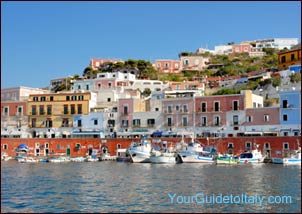 Surrounded by emerald and turquoise-colored, cristal clear waters, Ponza is most admired for its striking natural beauty. The white and blue-grey cliffs are bordered by narrow beaches or drop abruptly into the sea. The unique, breathtaking scenery and nature is best admired from the sea, both above and underwater.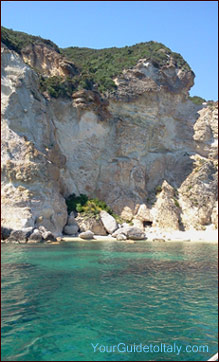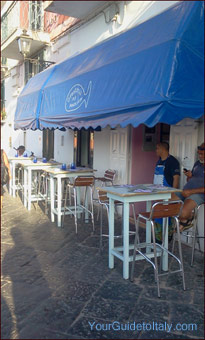 The small village of Ponza at the souteast end of the island consists of a small, pittoresque harbour surrounded by a semi-circle of typical cheerily painted houses. While restaurants, cafés and small boutiques line up along the central promenade facing the sea, they have not spoiled the typical atmosphere of the island.

Custom Search
Ponza is a miracle: a sizeable island which has managed to stay virtually intact despite the fact that it is only about sixty miles from Italy's capital Rome. As it has no airport and is accessible only by boat, it has been relatively well preserved and unblemished by mass tourism and jetsetters.
See also our Ponza photo tour.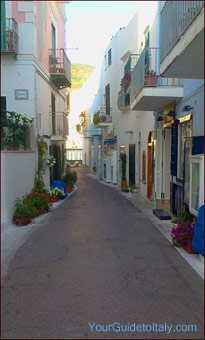 While Ponza may have an upscale feel about it due to the presence of yachts around the island, the island's style is resolutely casual and relaxed. No 5-star hotels or fashionable nightclubs, nor high-end shopping here. You will find a few shops selling clothes, shoes and jewelry in the typical Ponzese style, a few bars and that's about it.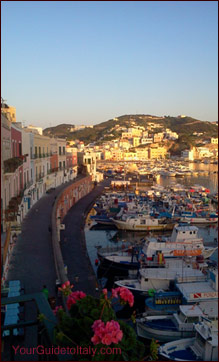 While the port and center of the island are accesible by ferry and boat, most of the small, rocky beaches are only accesible by sea, requiring a small motor or rubber boat, as the larger sail boats and yachts need to remain at a reasonable safety distance due to the presence of sand banks and rocks. The wisdom of the inhabitants of Ponza has done the rest.


This explains why Ponza's unique beauty is most appreciated by nature lovers, divers, Italian food lovers and true sailors at heart, and less by the typical glittering show-off crowds. While you will see quite a few impressive yachts dropping anchor around the island, their passengers remain discrete, appreciating the peace and anonymity they can find in Ponza like nowhere else.

The Pontine Archipelago

The Pontine archipelago consists of six islands: Ponza, Palmarola, Zannone, Gavi, Ventotene and Santo Stefano. All islands are of volcanic origin, except Zannone which has sedimentary and metamorphic rocks. Only Ponza and Ventotne are large enough to offer accommodation possibilities and regular ferry connections. The other islands can be visited in boat from the larger islands.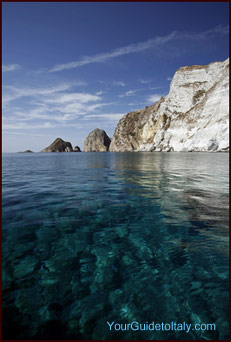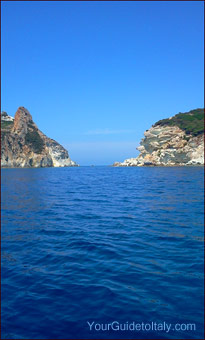 YourGuidetoItaly.com 2005-2015 © All Rights Reserved.

Photos of the YourGuidetoItaly.com banner (from left to right): (on campus) Sean Locke, (red deckchair) Valentina Jori, (chianti botlle) Donald Gruener, (Vitruvian man) Jodie Coston, (coliseum), Roberto A Sanchez, (Fiat 500) Luca di Filippo. Ponza photo (top to bottom): Ponza port view © claudiozacc.

YourGuide
To
Italy
.com

your

independent guide

to

Italy

and the

Italian culture



When to visit Ponza ?


The best time to visit Ponza is May, June, September, avoiding July and August as the island can become pretty crowded by day-tourists flocking from Rome and Formia.

If you plan to go in July, it is best to avoid the week-ends planning your stay anywhere from Tuesday to Friday. We recommend spending a minimum of two nights and three days to have enough time to visit the island from the inside and from the sea.



Getting to and around Ponza


Access from

Anzio

or

Formia

(ferry 2hr30min, or

aliscafo

1hr10min) or from

Terracina

(ferry 2 hrs).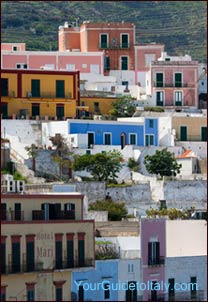 Photo © GeKo - Fotolia.com

The waterfront promenade photographed at 6:00 in the morning. Photo © Slow Italy

Ponza and Gavi islands
Photo © Slow Italy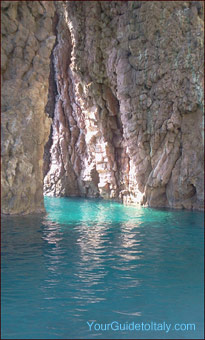 Ponza 'Arco Naturale'
Photo © Slow Italy

Palmarola
Photo © imagestalk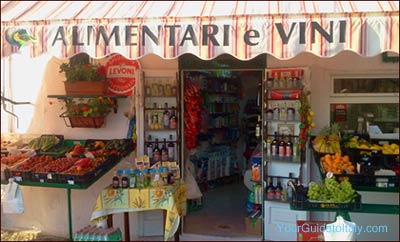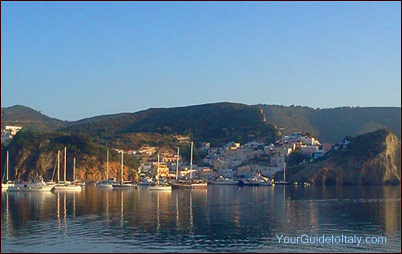 Typical Pontine grocery shop
Photo © Slow Italy

Custom Search
There is a small, low key fish restaurant on Palmarola that is accessible only by boat. To the northeast, Zannone is a nature reserve with quiet hikes, dense forests, and wild sheep running free.



Palmarola and Zannone are classic day trips from Ponza, each just 30 minutes away by boat. To the west, Palmarola is a protected nature reserve, particularly popular among divers.

Its turquoise seas and splendid coves, can compete with those of islands in the South Pacific or the Caribbean.

Once in Ponza you may want to rent a small motorboat to discover the coast around the island as well as the other pontine islands. Another option is to rent a sail boat or small yacht for your trip to Ponza and your stay there.

To tour around the island you can rent a Mehari jeep in the center of Ponza (just past the pedestrian tunnel on the promenade). Cost is 20 euro for the first hour, then 5 euro for each additional hour.

For more practical info and our Ponza secret address book, see our Ponza article on Slow Italy.



A little bit of history

Like other mediterranean islands, Ponza suffered successive waves of invasion. First colonized by the Etruscans, Phoenicians, Spanish and Greeks, among others, it was abandoned during the Middle Ages due to constant raids by Saracens and pirates. Re-colonized by the Kingdom of Naples during the 18th century, the island became part of the Kingdom of Italy in the mid-19th century, later transformed into the Republic of Italy. Taking advantage of the island's isolation various regimes used it as a penal settlement. During the two decades of fascism, Ponza and the nearby Ventotene, served as a prison for political opponents of Benito Mussolini's regime. Mussolini himself was imprisoned on the island for several weeks after being overthrown and arrested in 1943.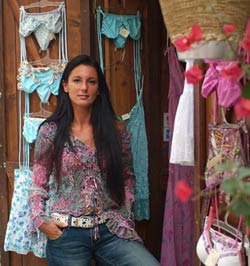 The only exception are a michelin starred restaurant and one or two other refined fish restaurants, but even here the atmosphere is definitely more laid back and not as show-offish as in Capri and you can feel that this is how the Ponzese people like to keep it. There are plethora of stories of famous people coming to Ponza, being turned down by restaurant and shop owners, not willing to roll out the red carpet for actors or industry moguls descending from their yachts.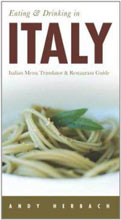 Eating & Drinking in Italy:
Italian Menu Translator & Restaurant Guide

by Andy Herbach

More information:
.
.
.
For practical info on where to eat, sleep and what to do on Ponza see our Ponza article on Slow Italy.